Ever dreamed of owning your own slice of Chianti?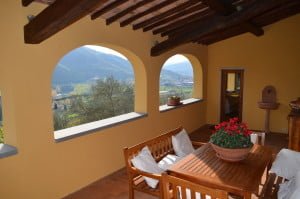 While there are many exquisite properties currently available for sale in the Italian property market, this unique discovery is worth a special mention….a breathtaking villa in Tuscany!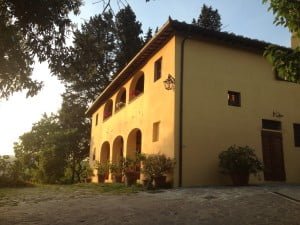 With views that have been waiting for you for centuries; "Casa Nova" is located on a hill between Sieci and Pontassieve; surrounded by a lush three hectares of land and meadow; fruit orchard and 165 tree olive grove.
In a setting which gives you goose bumps the first time you see it; this perfectly restored Tuscan villa estate abides within a natural reserve covering several hectares of olive trees and woods where nesting storks, herons, woodpeckers and other birds daily tweet alongside the many pheasants, squirrels, hares, deer and porcupines that make this paradise their home.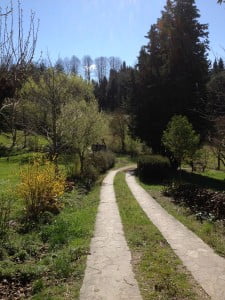 Conveniently located only 16km from the centre of Florence and 12km from the Autostrada, it commands stunning panoramic views over the Arno Valley which stops you in your tracks and leaves you in awe.
Proudly boasting distinguished company in an area full of historical and artistic interest, this unique property lies in the region famous for the production of fine Chianti wine and olive oil and neighbours the Marchesi di Frescobaldi vineyard "Remole – La Cantina" at the rear where you can enjoy an afternoon stroll through grape vines that grace the landscape…or maybe indulge in an aperitif at the Villa D'Arte hotel and spa next door.
After traversing a 450m gravel driveway across a secular cypress grove, the majestic two-story ocre villa appears in all her imposing grace and age. Dating from 1789 where its lineage began as an ancient watchtower, she has been impeccably restored maintaining the usage of original materials; brick, stone, wood beams and cotta tiled floors. In total the villa boasts three separate living apartments spanning 400sqm, giving the buyer the opportunity to use the entire building as a palatial home or to reside upstairs and rent the downstairs level as either one or two apartments.
Lovingly restored in 2014 with pain staking attention to detail, nothing was overlooked with works including heat-coat on all exterior walls, roof restoration, new septic tanks, new thermal fixtures, new thermal plant biomass, new windows, painting and renovation of internal ceiling; immaculately maintaining a high standard of luxury living a home of this nature deserves.
The floor plan includes the following:
Second level Apartment
            -200sqm
            -entrance with large hall way
            -large front covered terrace
            -large living room with fire place
            -kitchen
            -dining room with fire place
            -two double bedrooms (one with fireplace), one single bedroom
            -2 bathrooms with showers, one with bath
            -study in the tower
            -storage room
Ground Floor apartment 1
            -90sqm
            -front covered terrace
            -kitchen
            -living room
            -double bedroom
            -two bathrooms with showers
            -outside porch
Ground Floor apartment 2
            -80 sqm
            -living room
            -kitchen/lounge room
            -dining room with fireplace
            -double bedroom
            -bathroom with shower
            -french door access to outside paved brick and stone terrace
The estate also includes an exterior utility room and laundry; a technical room with pellet boiler; a threshing floor paved in stone at the front of the property; a large parking area to the left of the building; a little masonry cabin used as a technical room; several outbuildings including a greenhouse for lemon trees, a double chicken coop, and two sheds.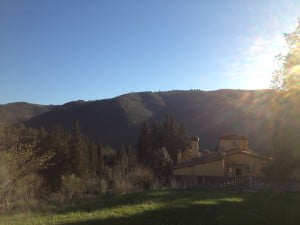 Buying a Tuscan paradise such as this has never been easier or more economic.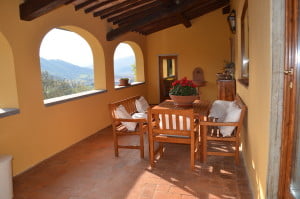 I invite you to walk through the threshold of Doorways to Italy and encounter a simple life so overwhelmingly rich in true beauty that you'll reconsider what you think you know.
La dolce vita truly awaits!